What to choose on the glass panel? We suggest the most popular solutions 
One of the greatest advantages of glass panels is certainly the high level of their aesthetics – properly arranged room with the panels change the place unrecognizable and really pleases the eye. The effect we get sometimes amazes even ourselves 😉 Our customers have a lot of ideas in choosing the graphics and designs for the glass panel – if you are still looking for inspiration and do not know what to decide, we will recommend the most popular and proven solutions.
1. Glass Panels in kitchen – Most popular designs
Kitchen is the room where we install glass panels most often. They are dominated with culinary patterns (fruits, coffee beans, smoothies, herbs), floral motifs (orchids, grass, bamboo), but also landscapes (cities at night, forests, beaches). An interesting solution for eg offices or apartments for rent are glass panels with panoramic city graphics in which the apartment is located. Other motifs in the kitchen are: abstraction wave patterns, brick/stone backgrounds, cheerful quotes, family photos or panels imitating drops of water flowing down the walls.
2. Glass Panels in bathroom – what can you choose ?
The bathroom is definitely dominated with water graphics – we have beautiful pictures of underwater caves, bridges and footbridges, beautiful waterfulls, turquoise water, swimming pools, beaches, underwater depths and live animals. All these motifs bring to the bathroom a relaxing and a bit of a spa atmosphere. The motifs of stones (again referring to the spa) and, of course, pictures of cities or forests, but also portraits of women or men are seen to be popular.
3. Glass Panels in bedroom
Very often our customers (often married couples) choose to install glass panels over their bed. This is a good choice that can bring a lot of individuality, intimacy and climate into this room. Often for this room we choose more personal photos – for example, black and white or sepia photos of the couple of their wedding day. Popular are also all kinds of acts, night city panoramas, wood textures or soothing forest.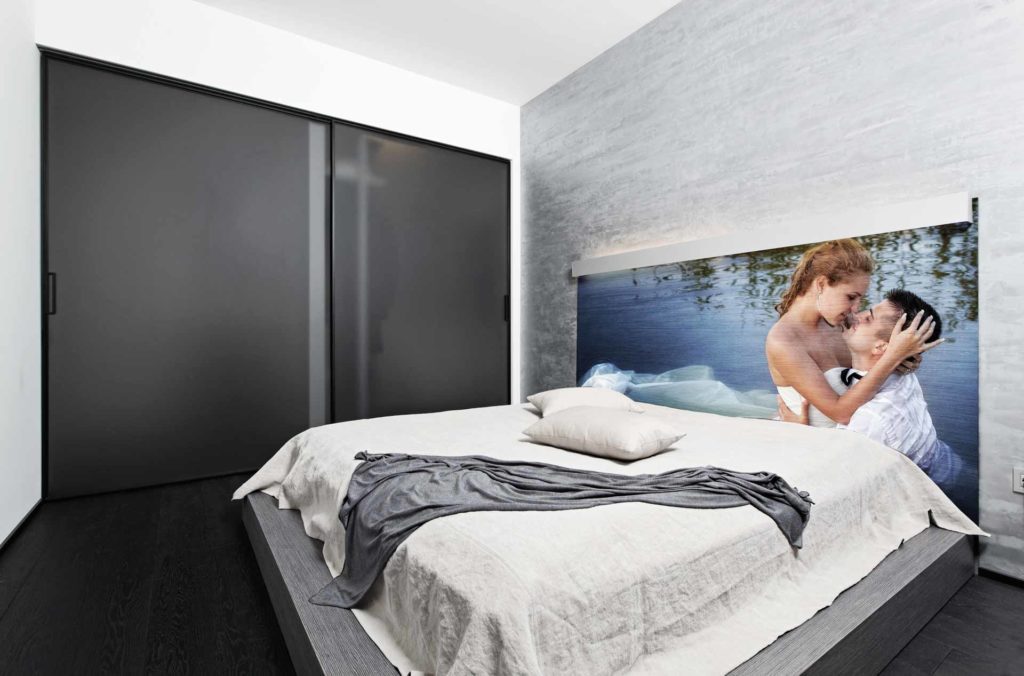 4. How to choose a design for yourself ?
Choosing the right graphics depends primarily on your taste and climate, which you want to introduce into a particular room. The bathroom climate can be both a holiday memory (a bath with a view on the Riviera!) and a relaxing one if you choose eg a turquoise waterfall. The kitchen with a glass panel in the example of bamboo is very positive and invigorating, with a panoramic view of New York at midnight more modern, luxurious. The pattern on the glass panel certainly needs to be adapted to the decor of the entire room to achieve the best effect. We encourage you to view our gallery and portfolio. We hope that thanks to it and our tips you will find the perfect model for yourself 😉